iTrack Motorsports ExciteGP Round 2
Saturday July 16

-

Sunday July 17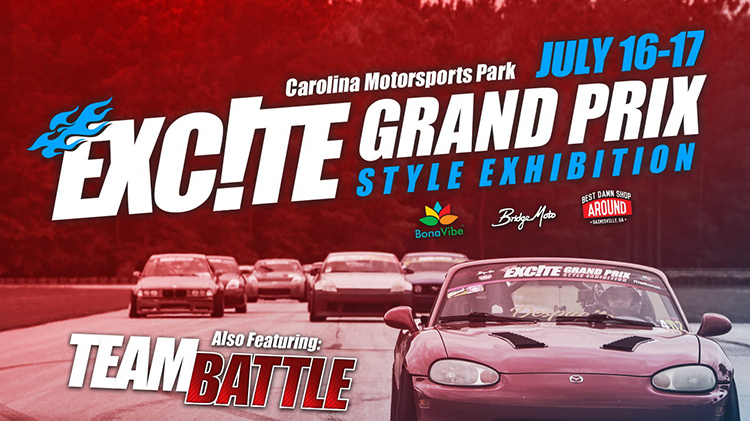 Drifting is back at CMP! This is one of the few chances to participate or spectate a drifting event on our 2.27-mile road course.
Via www.msreg.com/excitegp:
ABOUT EXCITEGP ROUND 1:
ExciteGP is style focused grassroots competition drift series put on by iTrack Motorsports. These events are designed to give drivers maximum seat time. With open drift sessions and hot lapping qualifying, there is no shortage of driving. For ExciteGP, all cars are required to have all bodywork, painted, and complete.
ExciteGP Round 2 will kick off on Saturday July 16th at Carolina Motorsports Park in Kershaw, SC. We are extremely excited to be back at the beautiful 2.2 mile Carolina Motorsports Park! This will be the biggest and baddest road course ever drifted for ExciteGP! We believe this track will make for extremely close battles! This WILL be the fastest entry at ExciteGP ever hosted.
The event will operate the same way most track days do. Saturday, we will run three (3) separate lines and alternate throughout the morning, starting at 8am. At 11:00am, we will open the track to hot lapping. We will run a chicane on the front and back straight. At 1:00pm, we will start the competition for the Legends class. Drivers will battle in a Top 16 bracket until a winner is decided. After Top 16, we will open the track to FULL Hot Lapping until 5pm.
On Sunday morning, we will open the track at 8am. We will run hot track for an half hour period before going to the Clubsport Top 16 battles. We again will battle for a Top 16 winner and awards will be given. After the comp,we will begin the 2022 Team Battle comp! This year we will open the track to all teams for a 1 hour battle! We will slowly eliminate teams until a winner is decided. After this we will spend the remainder of the weekend hot lapping the full track!
No driver is required to compete in the competition and not running the competition has no effect on seat time! You can just sign up and not compete!