Lucky Dog "Southern Dawg Delight" Presented by LifeLineUSA (Race 3 of 3: Southern Endurance Cup)
Saturday September 23

-

Sunday September 24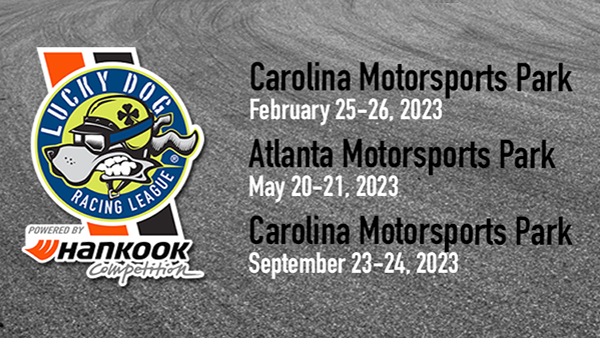 Lucky Dog Racing League (LDRL) returns to CMP for the final race in the Southern Endurance Cup!
Via Racelucky.com: "Event limited to 80 cars
Lucky Dog Casino Royale Event & Dinner
Format: 7+ (2+5) Hour Enduro (Saturday includes a 40 min. practice/qualifying session & Sunday's schedules includes 1 hour church break/lunch from 12pm-1pm)
Festivities also include a Monte Carlo night where the paddock garages are turned into a casino on Saturday night with roulette, craps, blackjack and poker tables with fundraising benefiting community support organization www.KershawKARE.org.
Car Entry (includes Captain): EARLY DOG DISCOUNT $400 USD plus $400 per add'l driver. Event requires minimum four (4) driver entries (or $1600 maximum entry fee with no less than 2 drivers). Early dog discount ends Aug. 23, 2023; then regular fee $450 per driver. A track-hosted practice day will be offered on Friday, Sept. 22, 2023. Event Info & Schedule to be posted shortly."
Friday Test Day: A test day will be hosted by Turn One Performance Driving on Friday 9/22 – more details to be posted shortly! (Note: This is not included in Lucky Dog team registration. Teams MUST sign up for this test day separately, no walk-ups.)
Gate Times: TBA
RV Site and Garage Bay Reservations: We will begin accepting reservations for this event on Monday 7/24 at 6:00PM.
Spectators: Spectator passes will be sold at the gate 7AM-7PM, $10 per person (ages 12 and under free)
More Info/Registration: https://www.racelucky.com